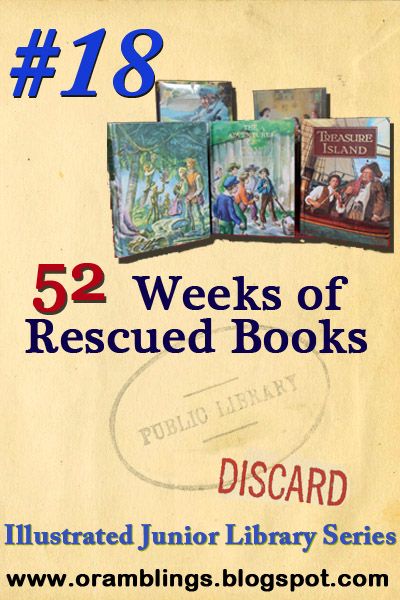 We're expanding this week! Rather than talk about a single book, I've got a whole series to share with you. You're probably already familiar with the individual stories: Little Women, The Adventures of Tom Sawyer, The Jungle Book, etc. but haven't seen them in this format.
I have to confess that my apprehension in moving to a Kindle and the world of eReading was that I'd miss books like those in the collection…hardbacks with cloth covers and the title in gold lettering on the spine. What makes the series more remarkable is that they were designed for young adults, hence the title "The Illustrated Junior Library."
First published in the 1940's by Grosset & Dunlap, these books didn't "talk down" to their audience—simplifying words or shortening long passages. These books are all unabridged (with the exception of the Three Musketeers, I don't know if it was for length or content). Dotted throughout the text are black and white sketches and every one in a while you're rewarded with a full color illustration.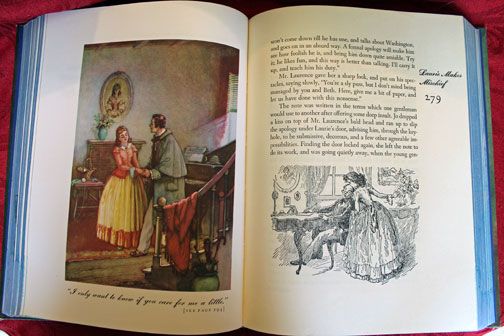 My first IJL titles came from my stepfather. He'd saved Black Beauty, Little Men and the Jungle Book from his childhood. Since then I'm always looking for other titles to add to my collection. Now I have Little Women, Tom Sawyer, Gulliver's Travels, and Swiss Family Robinson on my bookshelves.
If you're only exposure to these classics is through movie adaptations and watered down kiddy versions then you're missing a lot. Let's look at Swiss Family Robinson. Yes, I love watching the Disney film with my son but the term "based on the book" should probably be "loosely based." Mr. Disney left out a son and added a love triangle and a boatload of pirates. Director Ken Annakin admitted in a 2002 interview "What we did was more or less throw Wyss' book away."
Johan Wyss was a Swiss minister and he wrote the book to teach his own four sons about family values and self-reliance. You remember the scene in the movie where they ride the ostrich and other animals in a race? In the film, this holiday was to disperse some tension from all the preparations for the pirates. Here's the reason for the fête in the book.
I turned my thoughts, as I lay waiting for sunrise, to considering what length of time we had now passed on this coast, and discovered, to my surprise, that the very next day would be the anniversary of our escape from the wreck. My heart swelled with gratitude to the gracious God, who had then granted us deliverance, and ever since had loaded us with benefits; and I resolved to set tomorrow apart as a day of thanksgiving, in joyful celebration of the occasion.
It's these God-honoring passages that get tossed first in the abridgements.
Here is a list of titles in the Illustrated Junior Library series (this came from my 1950 copy of The Jungle Book, so other titles may have been added).
Adventures of Huckleberry Finn
Adventures of Pinocchio
Adventures of Tom Sawyer
Aesop's Fables
Alice in Wonderland
Andersen's Fairy Tales
Arabian Nights
Black Beauty
Five Little Peppers and How They Grew
Grimm's Fairy Tales
Gulliver's Travels
Hans Brinker
Heidi
Jo's Boys
Jungle Book
Kidnapped
King Arthur and His Knights of the Round Table
Little Lame Prince
Little Men
Little Women
Robinson Crusoe
Swiss Family Robinson
Tale of Two Cities
Treasure Island
The good news for collectors is that many of these books have been reprinted since the 40's. My copy of Tom Sawyer was published in 1977 and Treasure Island is from 1994, but they are still crafted like books that deserve to be cherished.
You can find a list of all my Rescued Books here.

I'm linking up with ....